S P R E C K S S P I V E Y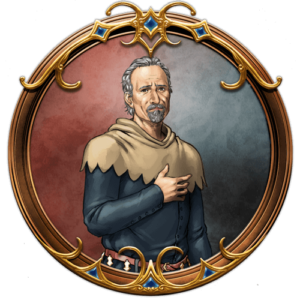 Sprecks is a reporter for The Kordavan Informant. Sprecks was born in Augstat and has more than once found himself on the wrong side of the law. In his younger days, he was no stranger to the Augstat underworld. Whether clipping coins for the Hofsteadter twins, running scams for Burchar the Swine, or assisting in elaborate blackmail schemes, Sprecks was often just on the periphery of organized crime.
Sprecks real gift, though, was as a confidence man. He could talk himself into, or out of, most any situation. For a time, he put his skills to work as a gigolo, conning old women out of their fortunes. But it was too long of a waiting game, so Sprecks eventually decided to try his hand at private investigation, where his fast-talking skills and knowledge of the streets might complement each other.
After some modest success, Sprecks met Otvard Stigvard, an ambitious young man desperately trying to climb the slippery social ladder. Otvard was trying to think of a concept for a business to launch, and Sprecks was eager to get in on the ground floor. Joining Otvard's money, Sprecks' ability to run down gossip, and their joint enthusiasm, the concept for a tabloid newspaper was formed. In Year 22, The Augstat Star was born, and Sprecks was suddenly in the newspaper business.
Business was great for several years as the business grew. But eventually the Augstat elite grew wary of Sprecks, and juicy leads became increasingly difficult to come by. Searching for a new angle, Otvard brought in a halfling scholar named Maurko Hamalgrar to give the paper a respectability facelift. He even renamed the paper to The Kordavan Informant.
Now Sprecks is determined to find some dirt on this halfling, who has no respect for the paper's tabloid roots.

C H A P T E R O G R A P H Y
S E A S O N 1 . 1


Chapter 4
Headline: Kordaava

S E A S O N 1 . 2
Chapter 8
Headline: Poppy
P E R S O N A L D E T A I L S
LIFE STATISTICS


Human
Hessen

POSITION/TITLES
Reporter for The Kordavan Informant
R E L A T I O N S H I P S