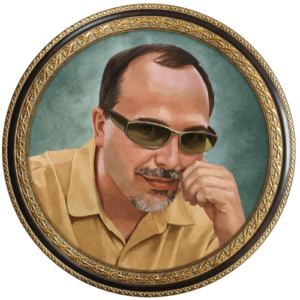 Chaldea LLC was founded in 2015 by Peter Adkison (Wizards of the Coast, Gen Con) as a subsidiary of his film company, Hostile Work Environment LLC. To create Chaldea LLC Peter partnered with longtime friend and co-founder of Wizards, Steve Conard.
Chaldea LLC was formed to create the World of Chaldea and stories therein for publication in fiction, art, film, and comics. Chaldea is a gritty fantasy world that leans heavily on inspiration from real-world history and mythologies. The Chaldea story is an epic one, following several protagonists who start off in different kingdoms around the world. When the Emperor of Chaldea is assassinated, his world-wide empire falls into chaos. As time passes we learn what unites these characters as the deeper mysteries at work are revealed.
Peter Adkison makes movies; he's makes imagination come to life.
And over the course of many years, he made Chaldea.
He's also made quite a few other things during the span of his career. In 1990, he made a business, Wizards of the Coast, and that business made Magic: The Gathering, and Magic made history. (That makes Peter the great-grandfather of trading card games, right?) He made a household name—Dungeons & Dragons—a household name again when he re-launched the line. He made it possible for the Pokémon Trading Card Game to expand beyond Japan by making the deal that brought it to the rest of the world. He made the Gen Con tabletop games convention his own, and he made sure its attendance grew year after year, from 18,000 to 56,000. His company Hidden City Games made Bella Sara, a trade card property for girls, and just recently, he made his first film, The Devils Walks in Salem, through his Hostile Work Environment production house. After all those entrepreneur successes, you might say Peter is a self-made man.
Now he's making the world he created over the course of many decades, Chaldea, his number-one priority, and he anticipates making books, comics, and, of course, movies to make it a world without parallel. In the end, Chaldea is a big place, and Peter has plans he hopes will make it even bigger. If the audience becomes as excited about Chaldea as Peter is, it will make his day.
"Write what you know", the old saying goes. If you were to look at the entirety of Steve Conard's writing, you might safely guess he knows pretty much everything.
Steve writes the stories and scripts that bring Chaldea to life. He writes about thousand of years of the world's history, and he writes about the day-to-day lives of individuals who don't even know their place in that order yet. He writes sweeping epics and focused character moments. In other words, Steve Conard has the ability to write the entire history of Chaldea on the head of a pin.
And writing about Chaldea is the culmination of years of writing across genres and across styles. Steve has written for dozens of different properties and brought his creative talents to Hasbro, Microsoft, Electronic Arts, Disney, and Wizards of the Coast, where as a founding member of the company he wrote and designed the GAMA Award-winning Magic: The Gathering expansion Legends. At Electronic Arts, he was given the title EA Inventor for creating an original game invention.
Books, comics, blogs, games, scripts—Steve Conard has burned out more creative muses than most of us will ever have. He is also the first confirmed patient to have a successful writersblockendectomy to head off any possible delays in the expansion plan to explore every corner of the world of Chaldea in the years to come.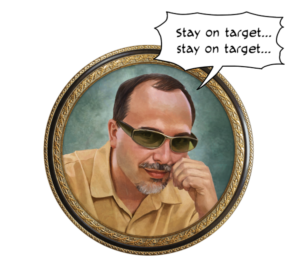 Peter Adkison
Director and Executive Producer
What I do in Chaldea:
Business management, direct movies, Chaldeapedia guru.
Interests:
Board games, roleplaying games, miniatures games, jigsaw puzzles, movies, television.
Claim to Fame:
Founder of Wizards of the Coast and CEO for 11 years, during that time we published Magic: The Gathering and Dungeons & Dragons 3rd Edition, and brought Pokémon out of Japan.
Favorite Quote:
"If you have something that needs to get done quickly, give it to your busiest employee. They won't have time to fuck around with it." ―Vince Caluori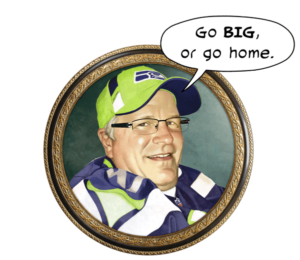 Steve Conard
VP of I.P Development
What I do in Chaldea:
Lead writer, world development, art director, manage troglodyte slaves.
Interests:
Films, games, family & friends and sports, "Go Hawks!"
Claim to Fame:
A wonderful wife & four nearly-wonderful children, co-founder of Wizards of the Coast.
Favorite Quote:
"Imagination is more important than knowledge" ―Albert Einstein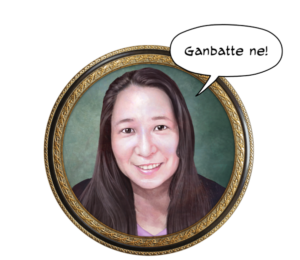 Michele Takahashi
Screenwriter and World Developer
What I do in Chaldea:
I get to write and create freakishly fun, cool, and exciting stuff for Chaldea.
Interests:
Film and television (includes Netflix and Amazon original shows), art, creative tinkering.
Background:
Graduate of USC School of Cinematic Arts
Claim to Fame:
Enjoying what I do!
Favorite Quote:
Fight On!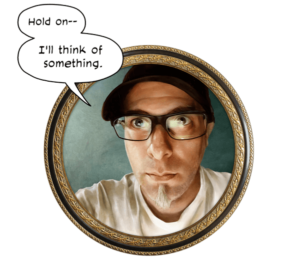 Steven O. Schwartzstein
Writer, Troglodyte slave
What I do in Chaldea:
I write. And when I've done that, I write
Interests:
Movies of the Coen Brothers, Woody Allen, Steven Spielberg, Milos Foreman, Mel Brooks, Harold Ramis, That Star Wars guy (movies 4-6), Billy Wilder, Francis Ford Coppola (okay too much, I'll stop). Fan of Philadelphia Sports (just don't bring up Mitch Williams, Snowballs and Santa Claus, or ---eeeck – the Boston Celtics around me). Avid biker (as in bicycle not motor though they look cool as hell). Aficionado of most styles of music. Player of guitar and bass. Oh, yeah. I love RUSH - which is to say anything that shifts from 5/4 to 5/8 to 5/4 to 6/8 to 6/4 to 4/4 time signatures is okay by me.
Claim to Fame:
Learning how to spell my full first and last name at age five, Long Beach island, NJ, Summer 1972.
Favorite Quote:
"You can't go! All the plants are gonna die!" ―John Winger, Stripes ('81), as portrayed by Bill Murray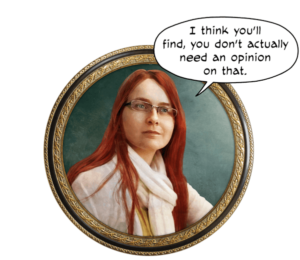 Anastasia Korochansckaja
Graphic Design, Web Design, Concept art, Illustration, and 'other'
What I do in Chaldea:
Bit of a Jack of all trades. When there's something needing doing and someone needing the doing, I'm there! I specialize in graphic design and illustration.
Interests:
I'm a collector of eclectic, bordering on eccentric interests and have a love of all things beautiful. Some of the most pervasive fascinations are: logarithmic spirals, astronomy, nature and wildlife, fantasy art, Lord of the Rings, Secular Humanism, and awesome (often profoundly large) pieces of driftwood/raw wood-of-any-sort that my husband wishes I would stop bringing home.
Claim to Fame:
Somewhere on the beach probably looking for trilobites and staring at rocks.
Favorite Quote:
"All men dream: but not equally. Those who dream by night in the dusty recesses of their minds wake in the day to find that it was vanity: but the dreamers of the day are dangerous men, for they may act their dreams with open eyes, to make it possible." ―T.E. Lawrence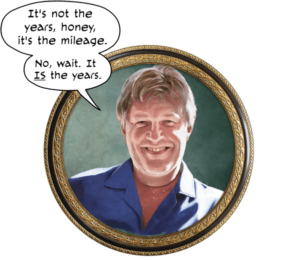 Michael G. Ryan
Writer/Editor
What I do in Chaldea:
Right Wright Rite. Let me get back to you on this one…
Interest:
Movies (my DVD collection broke 2,000 before I figured out that DVDs are not the future of film libraries), reading (my book collection…sigh), celebrity meet-and-greets (my restraining order collection…), and Disneyana, which crosses over all of the above interests plus a few other eccentric ones.
Claim to Fame:
Seven finished but unpublished (unsolicited, even!) novels; seeing all of my pop culture idols in person (Harrison Ford, Paul McCartney, Stephen King, John Irving) and getting autographs from the lot of them; getting my only child into his teen years with a minimal number of horrifying parental errors.
Favorite Quote:
"It's not the years, honey; it's the mileage" ―Indiana Jones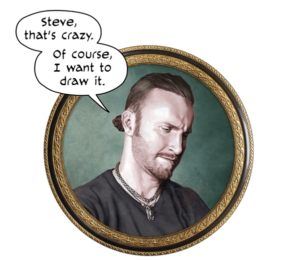 Jordin Mitchell
Production Designer
What I do in Chaldea:
Concept Artist. Responsible for the visual concept of Chaldea films: Design sets, graphics, props, lighting, and costumes.
Interests:
All things medieval, SCI FI, gaming, art, art, did I mention art, motorcycles, etc. (etc. means I'm open to new ideas).
Claim to Fame:
Still questing for the fame portion
Favorite Quote:
"If opportunity doesn't knock, build a door." ―Milton Berle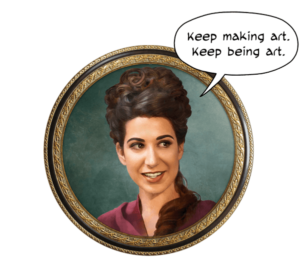 Sarah Moore
Actress / Social Media Director
What I do in Chaldea:
I play Poppy and flood your social media feed with Chaldea love.
Interests:
Gaming, reading, steaming black cups of tea, hanging out with my kiddos, cosplay, movies, TV, singing the theme songs to 1980s cartoons.
Claim to Fame:
A few folk might recognize me from my web series "Gamer Chick." And lots of kiddos in the Chicago area might recognize me as one of their favorite princesses who bring magic to their birthday celebrations.
Favorite Quote:
"...all the magic I have known I've had to make myself." ―Shel Silverstein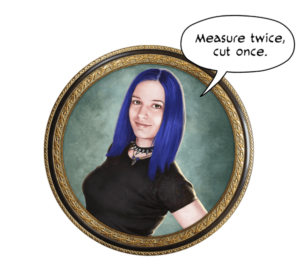 Leila Blue Aram-Panahi
Art Director
What I do in Chaldea:
I run all of the Anvil's day to day operations and manage the overall art department; things like budgets, schedules, artists and craftspeople who build our sets, wardrobe, hair and makeup, set decorations, and props.
Interests:
Swordfighting, Seattle Knights, historical costume, arms and armor, cosplay, gaming, television, books
Favorite Quote:
"The person who says something is impossible should not interrupt the person who is doing it."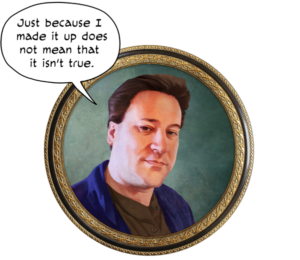 Jeff Berg
Treasurer
What I do in Chaldea:
Fun stuff like paying the bills and cash flow forecasting
Interests:
Computer games, freedom, stock market, Burning Man, freedom
Claim to Fame:
I'm not famous. Let's see if we can keep it that way.
Favorite Quote:
"Patience is the art of blissfully and contentedly waiting for what you want to come to you. If what you want is to be blissful and content then when you are patience you will find that you already have what you want." ―some dude named Patience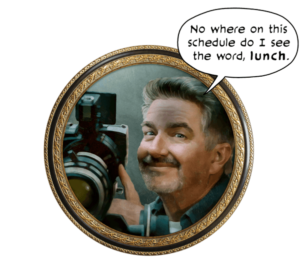 Chris Towey
Director of Photography
What I do in Chaldea:
I lurk in the shadows, listen to conversations and then try to bring those words to life through the magic of digital image capture.
Interests:
Great red wine. Hiking. Photography. Laughing.
Claim to Fame:
I was smart enough to marry a good woman with poor judgement, have two wonderful kids, and am lucky enough to love what I do for a living.
Favorite Quote:
"If it didn't have eyes, a mother, or struggle when it died, I'm not going to eat it..." ―Kennan Muzzy-avowed carnivore & arugula hater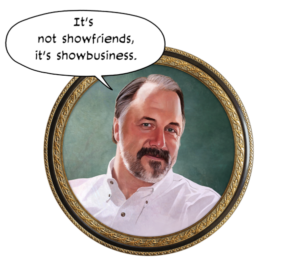 Rich Kaalaas
Graphic Design Supervisor & Brand Identity Developer
What I do in Chaldea:
Graphic design and branding supervision, and design monkey, (as required)
Interests:
Roleplaying games, movies, adventuring with my husband, our pets and The Ranch.
Claim to Fame:
Co-founder Wizards of the Coast, VP of Visual Development & Creative Director 1997-2000
Favorite Quote:
"Always approach fear with friendliness and curiosity" ―Unknown"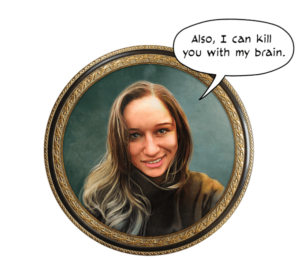 Tinnel Lovitt
Production Artist
What I do in Chaldea:
Art Director Aide. All phases of art production: concept, storyboard, pencil, color and final render. I illustrate fun.
Interests:
Art, Comics, Books, Board games, Aerial Silks Sci-Fi Fantasy, all things dog, and definitely wine.
Claim to Fame:
Crafting my art career regardless of the odds.
Favorite Quote:
"A man who views the world at fifty the same as he did at twenty has wasted thirty years of his life." ―Muhammad Ali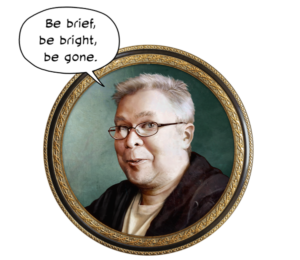 Moon Mulligan
"Just Tech"
What I do in Chaldea:
Tech stuff...
Interests:
Technology, video games, comic books, roleplaying games
Claim to Fame:
A wife, a son and a daughter
Favorite Quote:
"Remember the face of your father." ―Stephen King, The Dark Tower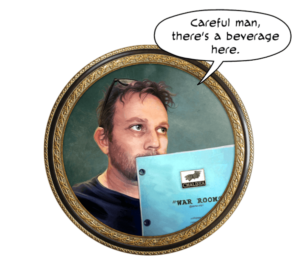 Brandon "Chipp" Ohl
Editor/Animator

What I do in Chaldea:
I make all the stunning imagery dance.
Interests:
First the obligatory: my daughter... cooking, sports, and films. However, my true passions are breakfast burritos, the Office, and comedy. I like writing but it usually does not like me back.
Claim to Fame:
I claim no fame – outside of Chaldea. A close-second is a drunken campfire speech that bestowed upon me the nickname "Chipp".
Favorite Quote:
"The more you sweat in training, the less you bleed in combat." ―Richard Marcinko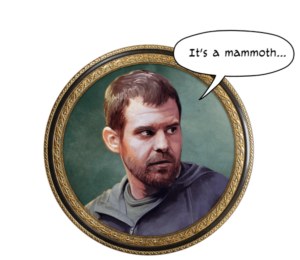 Bliss Holloway
Director of Photography
What I do in Chaldea:
I make sure that the world feels real, and that everyone looks their best.
Interests:
Biking, Tennis, Hiking, Pool, Target Shooting, Raising My Kids, and Anything Camera Related
Claim to Fame:
When Pope John Paul II died, I was living in Italy. I was working for CNN, and one night I talked myself and 3 colleagues past the Italian police, then the military police, then Vatican security, and finally the Swiss Guards in order to see the Pope lying in state. In short, we skipped the 2-day long line which stretched for miles. Then, the next night, I did it again with about 10 people in tow!
Favorite Quote:
"In preparing for battle (*or a film shoot*) I have always found that plans are useless, but planning is indispensable." ―Dwight Eisenhower (*parenthesis mine)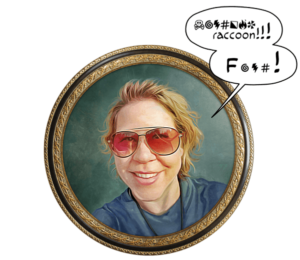 Lindy Boustedt
Post-Production Coordinator

What I do in Chaldea:
The part after the director says, "That's a wrap". Aka cat/dog/raccoon wrangler.
Interests:
Currently obsessed with young-adult movies/tv-shows, True Crime podcasts/shows, Doctor Who, silly card games, playing badminton/mini-golf, traveling the world and the food adventures they bring.
Claim to Fame:
An award-winning writer, director, and producer who specializes in character-driven stories. As co-owner of First Sight Productions, I've spent the past 16 years working on everything from shorts and features to serialized productions and branded content to podcasts and VR/AR media. I'm also the lead instructor of the screenwriting program at the Washington Corrections Center for Women and teach film producing at Seattle Central College and the Northwest Film Forum. Narrative work has over 14M views on YouTube.
Favorite Quote:
"The purpose of art is to lay bare the questions that have been hidden by the answers." ―James Baldwin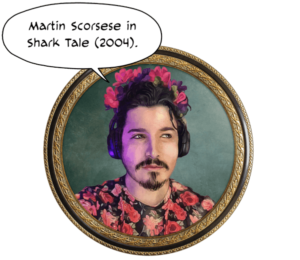 Markus Maes
Technical Producer

What I do in Chaldea:
Technical Producer equates to creating and putting out fires.
Interests:
Theatre, gaming, film, television, sparkling water, and trying to do the right thing.
Claim to Fame:
An award-winning actor, streamer, podcaster, and writer.
Favorite Quote:
"Color my life with the chaos of trouble." ―Belle & Sebastian