O T V A R D S T I G V A R D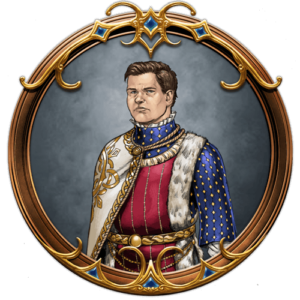 Otvard Stigvard is the owner and publisher of The Kordavan Informant, Chaldea's original newspaper. His editor-in-chief is Maurko Hamalgrar.
Early Years. Stigvard was born in Year -3 to Jan the Sausageman of Dinkelsbuhl and his wife, Enede. Showing early signs of ambition, at age twelve, Stigvard convinced a local scribe to teach him letters and numbers for one year in exchange for two piglets. By age fifteen, Stigvard showed sufficient promise that the village of Dinkelsbuhl pooled their resources and secured him an understudy position in the district clerk's office.
Entrepreneurial Years. In Year 17, Stigvard's outstanding references helped him secure the role as bookkeeper for Eufemia, who had inherited a large butchery and tannery business from her late husband near the market area of Augstat. In Year 19, Eufemia promoted Stigvard to general manager, awarded him a stake in the business, and retired to domestic life. Within eighteen months, Stigvard, with Eufemia's support, arranged a sale of the business to a Kinahhu cattle merchant, ensuring his and Eufemia's financial futures.
With a modest degree of wealth and no responsibilities, Stigvard acquired a taste for the finer things life had to offer: fine wine, Aimian pastries, Ardayan spices, and Saratof fashion. But a bank account full of groshen wasn't enough to gain him access to society's elite. And the more Stigvard was denied access, the more he wanted it.
The Newspaper Business. While musing on the unfairness of the Augstat class system and enjoying a well-aged Latium Aqua Vitae, Stigvard made the acquaintance of a private investigator named Sprecks. Sprecks regaled Stigvard with stories of Augstat elite and shared tips on how to sneak into high-class functions. Impressed with Sprecks' skills at gossip mongering, Stigvard invented the tabloid newspaper on the spot. Thus, in Year 22, The Augstat Star was born. Stigvard spent all the money he'd made in selling Eufemia's business and entered the newspaper business.
Business was excellent for several years as Stigvard's business grew. But eventually the Augstat elite grew wary of Sprecks and Stigvard's other gossip hounds, and juicy leads became increasingly difficult to come by.
While searching for new ideas, Stigvard picked up some books written by a halfing scholar named Maurko Hamalgrar, who was becoming highly acclaimed in academic circles. In one of his books, Hamalgrar took government correspondence and managed to turn it into fascinating reading. Inspired by this work, Stigvard again made an intuitive leap and developed a new vision for his newspaper, imagining a publication that would accurately report on the happenings of the day, something respectable and noble that would serve the common good.
Stigvard shared his ideas with Hamalgrar, who first thought the notion was a bit silly but who was eventually convinced to move to Augstat and join forces with Stigvard to help shape this new enterprise. To signal the depth of the change, Stigvard renamed the Star, and in Year 39 The Kordavan Informant was born.
Stigvard's respect for Hamalgrar has grown over time, but the relationship is often tense. Stigvard likes to walk fast and talk faster; Hamalgrar is better with ink and quill. Stigvard is used to running things his own way while Hamalgrar is committed to the ideals that brought him to Augstat in the first place.

C H A P T E R O G R A P H Y
S E A S O N 1 . 1


Chapter 4
Headline: Kordaava

S E A S O N 1 . 2
Chapter 8
Headline: Poppy
P E R S O N A L D E T A I L S
LIFE STATISTICS


Human
Hessen

POSITION/TITLES
Owner of the Kordavan Informant
R E L A T I O N S H I P S